T

he

B

eer

C

ave
The Beer Cave occupies the basement of the former palace of the influential Capitano Giacomo de Robertis, who hailed from Bologna, Italy, and presently housing the Hotel Castille. Giacomo de Robertis was employed by the Knights of Malta. It later passed into the possession of some of the wealthiest Maltese families including the Testaferrata Family and later to the Marquis Cassar Desain.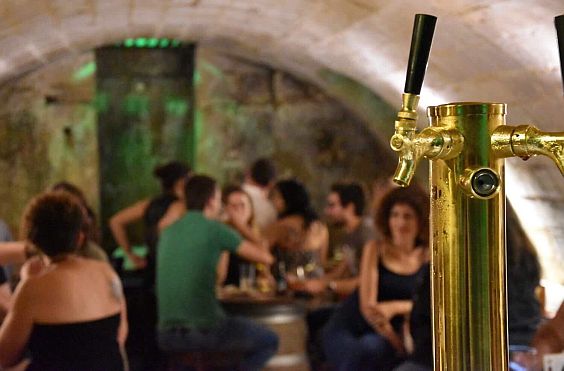 The cellars that are now converted into The Beer Cave, formerly housed a bakery/kitchen complete with a terracotta oven, a stable with a ramp leading to the palace's courtyard, a mill room, a wine cellar and various other storage areas.
Like most old buildings in Valletta, the stones used to build this palace were dug out of the bottom of the basement thus creating very large wells. As a matter of fact, you are sitting on a vast interconnecting well-water storage system lies beneath The Beer Cave. But don't worry, as the walls, arches and barrel-vaults were built to withstand earthquakes!
Whilst renovating the establishment it was made sure that the aesthetics where not altered, and that it kept its original look and feel. Every effort has been made to ensure that The Beer Cave retains all the characteristics of the XVI century palace cellar that makes it such a historic, artistic and architectural gem to us.
The modern bar structure which is our main feature, is made solely out of brass and dark oak, and the Barrels you are currently occupying were once used as props for the filming of "Sinbad and the Eye of the Tiger" way back in 1977. We hope you appreciate all the effort we put into this project to ensure that all our clientele enjoy a night out in Valletta with some great friends, good beer and homemade food accompanied by real live unfiltered music.
Follow The Beer Cave on Facebook